Accreditation Standards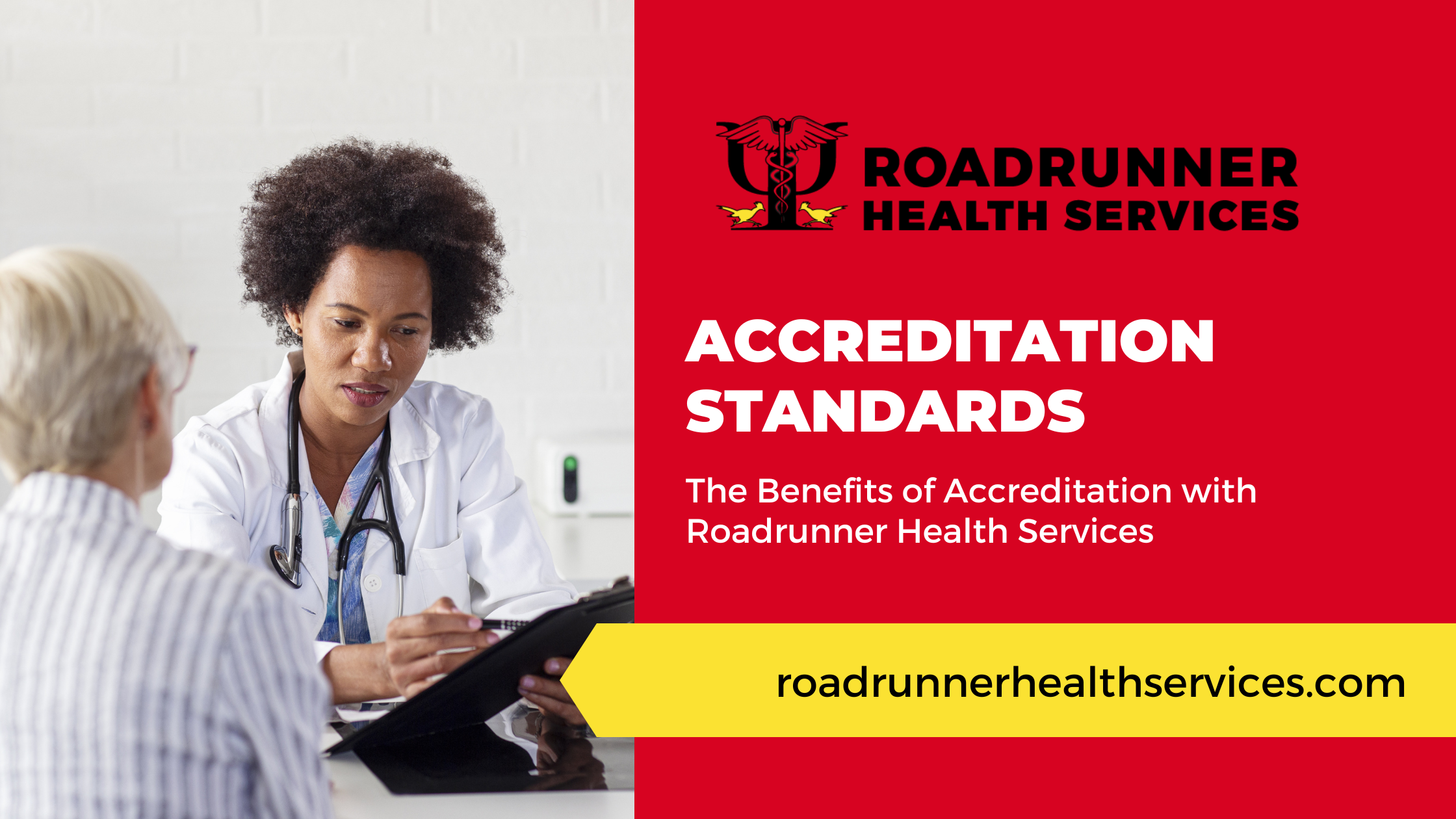 What is Accreditation in healthcare?
Accreditation in healthcare is a type of external review that shows whether a healthcare provider is meeting regulatory requirements and standards an outside organization sets.
To be accredited, a healthcare organization must demonstrate compliance with the standards. Usually, this involves a rigorous review process where industry experts survey the organization's structures, policies, and quality practices.
Why is accreditation in healthcare important?
Healthcare accreditation programs such as the NCCH, ACA, and NMC create a set of standards with the help of industry experts. The standards cover everything, from training materials to equipment maintenance, to data retention at healthcare facilities.
When it comes to delivering quality care in correctional settings, Roadrunner Health Services provides the framework to ensure that systems, policies, and procedures are in place to produce the best patient outcomes with evidence-based practice in the most cost-efficient and effective manner.
Developed by leading professionals in the fields of health care, mental health, and corrections, the healthcare accreditation standards provide medical and mental health services in correctional facilities. These essential accreditations have helped guide the field toward continual improvement in the quality of care provided to inmates and strengthened correctional facilities' organizational effectiveness and reduced the risk of adverse legal judgments.
Roadrunner Health Services
Roadrunner Health Services is committed to providing high-quality health care to our patients that meet the highest standards of quality and efficiency. We offer expert solutions in medical care, pharmacy services, medical records management, laboratory services, dental care, mental health, suicide prevention, detox, emergency response, and so much more.
Roadrunner Health Services is committed to an ongoing pursuit of excellence by developing, implementing, and adhering to policies that support national correctional health standards and achieving or maintaining national and state accreditation.


The Benefits of Accreditation with Roadrunner Health Services
Achieving accreditation in the health industry can have many significant benefits for the organization:
Improved quality of care

- The standards ensure that patients receive consistent, excellent care throughout the facility after a comprehensive review.

Increased community confidence

- Accreditation shows our patients that they can trust us to care for them. It also demonstrates that we seek to provide the highest quality service possible to the community. Roadrunner Health Services upholds community standards in all of our contracted facilities.

Receive shared policies, procedures, and best practices

- Gain access to a new world of resources and partnerships. We also offer ongoing tips and resources to help keep you up to date on the new regulation, technology, and changes in the healthcare industry.



Accreditation Agencies
The following represent the accreditations and associations that qualify and endorse us as quality healthcare providers. We are proud to offer the level of service they represent. Read about the specific accreditation agencies below.
NCCHC
NCCHC is the first and only organization certifying correctional facility health care providers. Accreditation is based upon compliance with the NCCHC Standards, widely recognized as the benchmark for ensuring access to quality correctional healthcare services and the most rigorous standards available. Roadrunner Health Services offers policies and procedures based on the accreditation standards of NCCHC.
ACA
The ACA provides a verification system for correctional facilities. These standards are based upon valid, reliable research and excellent correctional practices encompassing healthcare services and correctional facilities' operations. Roadrunner Health Services offers policies and procedures based on the accreditation standards of ACA.
NMC
The New Mexico Association for Counties Detention Affiliate recognizes the importance of professional standards in detention facilities. Roadrunner Health Services offers policies and procedures based on the accreditation standards of NMC.
We take pride in the care that we give and in these accrediting bodies that endorse our services. If you're interested in learning more about our services, contact us today.
About Roadrunner Health Services: RHS provides high-quality medical and mental health services in correctional facilities consistent with community best practices to ensure the physical and psychological well-being of the patients.